Easter Sunday Brunch & Weekend Celebration
Author: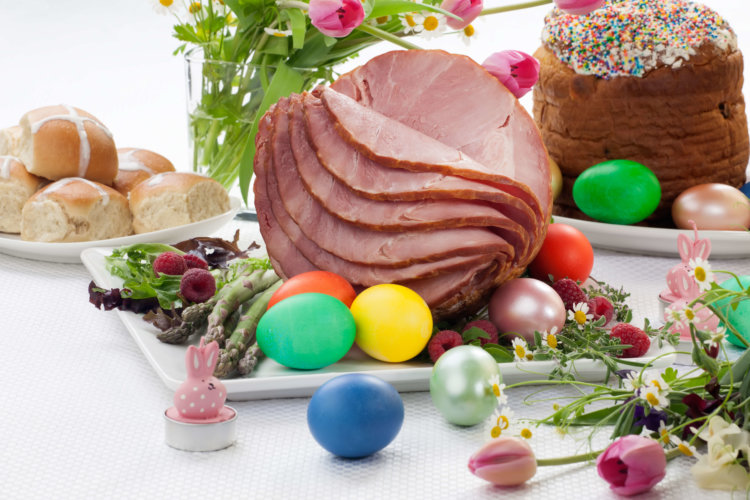 Easter fun over the weekend includes an Easter Basket delivery to guest rooms with children on Saturday evening, and an Easter Egg Hunt with three different age groups beginning on Sunday at 9:00 am. We will offer the lavish Brunch Buffet on Easter Sunday from 9:30am until 3pm. Reservations are required. The Easter bunny will be visiting tables during brunch after the Egg Hunt. There will also be complimentary professional family photos in the Great Room, available to all resort and brunch guests.
Reservation required.  Please call the Frontier Restaurant 262-725-9155.
BUFFET MENU
Salads and Cold Display
Tossed Fresh-Cut Baby Mixed Field Greens with Assorted Dressings and Condiments
An International Selection of Cheeses and Wisconsin Sausages with Assorted Crackers
Seasonal Fresh Fruits
House-Made Almond Granola Greek Fage Vanilla & Plain Yogurt
Garden-Fresh Farm Logic Grilled Vegetables Drizzled Balsamic Roasted Garlic Reduction
Smoked Fish Platter
Bagel Chips with French Onion-Infused Cream Cheese
Kansas Blended Grains and Sun-dried Fruit Salad
Chef's Special Blended House-Pickled Vegetables
Roasted Capone Wisconsin Cranberry Black Walnut Salad
Southwest Sweet Corn Relish
Cold Seafood Bar Easter Ice Carving
Avery Island Boiled Chilled Gulf Shrimp
Oysters on the Half Shell
Horse Radish Cocktail Sauce
Omelet and Egg Station
Farm-Fresh Eggs Cooked any Style and Omelet Station
The Carvery
Carved Bone-In Duroc Ham
Cherry-Smoked Spring Colorado Leg of Lamb
Jack Daniels Honey Glaze, Mint Cherry Sweet Jam
Entrees
Roasted Shallot and Sweet Onion Quiche
Apple Wood Smoked Bacon
Fresh Country Chicken Sausage
House-Made Michigan Blueberry Pancakes
Danielson's Sugarbush Organic Michigan Maple Syrup
Seared Pistachio-Crusted Grouper with Porcini Mushroom Garlic Fumet
Southern Fried Duroc Boneless Pork Chops with Smoked Black Pepper Chili Paste Cream Sauce
Seared Tri-tip of Angus Beef with Horseradish Espresso Demi
Chicken Fingers
Mac and Cheese
Farm-Fresh Roasted Cauliflower Potato Smoked Provolone Gratin
Cut Buttered Corn
Grilled Broccolini Garlic Polonaise

Desserts
Danish & Muffins
Assorted French-Style Mini Pastries, Chocolate Macchiato Tart, Bourbon Pecan Pie Raspberry & Fruit Hamantaschen, Rhubarb Pana Cotta Marti's, Coconut Cream Pie, and French Silk Pie
English Toffee, Sour Cherry Pound Cake, and Easter Candy
Coffee Service
Adults $44.95 
Children ages 4 -12  $16.95
Children 3 Years & Under Dine Free
There will be an Easter Egg Hunt for resort and Easter brunch guests at 9:00am!
Reservation required.  Please call the Frontier Restaurant 262-725-9155.