Join us for Family Fall Festival October 12-13
Author: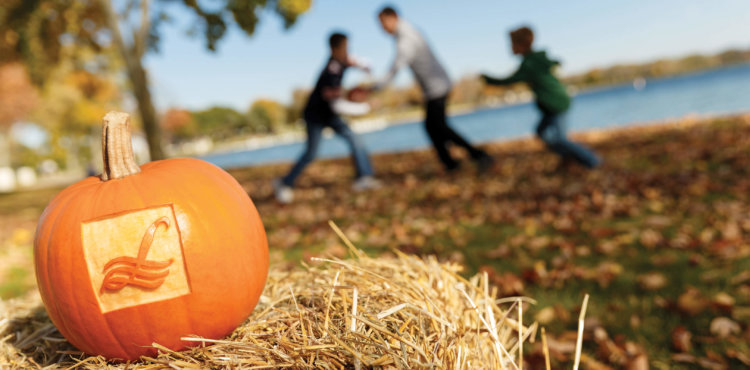 At Lake Lawn Resort we strive to have several different events throughout the month that families and folks from all over can enjoy. With our unique and beautiful property we can offer a lot of great moments. One of those upcoming events is the Family Fall Festival.
Our annual Family Fall Festival (October 12-13, 2019) is an extended weekend for family and friends to gather at the lake and to enjoy everything we have to offer while the fall colors are beginning to take effect. The weekend is packed with fall-themed events including unlimited mini golf, scarecrow building, pumpkin decorating, donut making, hayrides, Fall Harvest Buffet, movie nights, lots of games and activities for the whole family, and more!
From 12pm – 4pm on Saturday, October 12th there will be a Sausage Stand featuring brats and hot dogs.
Activities will be open to resort guests AND the public. All of the activities will be held in the inner courtyard. The buffet will be located on the lakefront.
FALL HARVEST BUFFET
Sunday, October 13, 2019 | 12:00PM until 3:00PM
Adults $25 | Children ages 4-12 $15 | Children 3 and under dine free
Fall Harvest Lettuce Salad
White Balsamic Cranberry Vinaigrette
Buttermilk Ranch Dressing
Apple Walnut Salad
Warm Potato Salad with Bacon
Creamy Turkey and Wild Rice Soup
Grilled Local Bratwurst with Seasoned Kraut
Apple Bourbon BBQ Grilled Chicken
Grilled Hamburgers
Macaroni & Cheese
Hamburger and Sausage Buns
Traditional Condiments
Lettuce, Tomatoes, Red Onions, and Pickles
Fresh Late-Harvest Buttered Sweet Corn
Pumpkin Cheesecake Bars
Caramel Apple Spiced Cupcakes
ACTIVITIES AND ENTERTAINMENT
Friday, October 11, 2019
4 PM
Laser Tag ($10 – weather permitting) Sign up and meet at Bucky's Playhouse
5 PM – 6 PM
Guest Welcome Reception – Resort Guests Only
6 PM
Bingo in Timber Pool Lobby
7 PM
Movie Night in Great Room
9 PM – 1 AM
DJ & Karaoke in the Lookout Bar & Eatery
Saturday, October 12, 2019
11 AM – 2:30 PM
Hayrides leaving from the Conference Center leaving every 30 minutes
12 PM – 4 PM
Pumpkin Painting ($5 per pumpkin) at Bucky's Playhouse
12 PM – 4 PM
Hand Painting Tree at Bucky's Playhouse
12 PM – 4 PM
Scarecrow Building at Lakefront-Great Room area
12 PM – 3 PM
Concessions and Donut-Making at Lakefront-Great Room area
12 PM
Pumpkin Bowling at Lakefront-Great Room area
1 PM
Limbo Contest at Lakefront-Great Room area
2 PM
Sack Races at Lakefront-Great Room area
3 PM
Tic Tac Toe Relay at Lakefront-Great Room area
4 PM
Laser Tag ($10 – weather permitting) Sign up and meet at Bucky's Playhouse
6 PM
Bingo in Timber Pool Lobby
7 PM
Family Trivia Night in Great Room
6 PM – 10 PM
Live Music by Terry Sweet in Frontier Lounge
 9 PM – 1 AM
Live Music in the Lookout Bar & Eatery
Sunday, October 13, 2019
11 AM – 2:30 PM
Hayrides leaving from the Conference Center leaving every 30 minutes
12 AM – 4 PM
Pumpkin Painting ($5 per pumpkin) at Bucky's Playhouse
12 PM – 4 PM
Hand Painting Tree at Bucky's Playhouse
12 PM – 4 PM
Scarecrow Building at Lakefront-Great Room area
12 PM – 3 PM
Human Foosball (Harvest Buffet area)
12 PM
Pumpkin Bowling at Lakefront-Great Room area
1 PM
Whipped Cream Pie-Eating Contest at Lakefront-Great Room area
2 PM
Sack Races at Lakefront-Great Room area
3 PM
Tug of War at Lakefront-Great Room area
4 PM
Laser Tag ($10 – weather permitting) Sign up and meet at Bucky's Playhouse
6 PM
Bingo in Timber Pool Lobby