St. Patrick's Day Celebration
Author: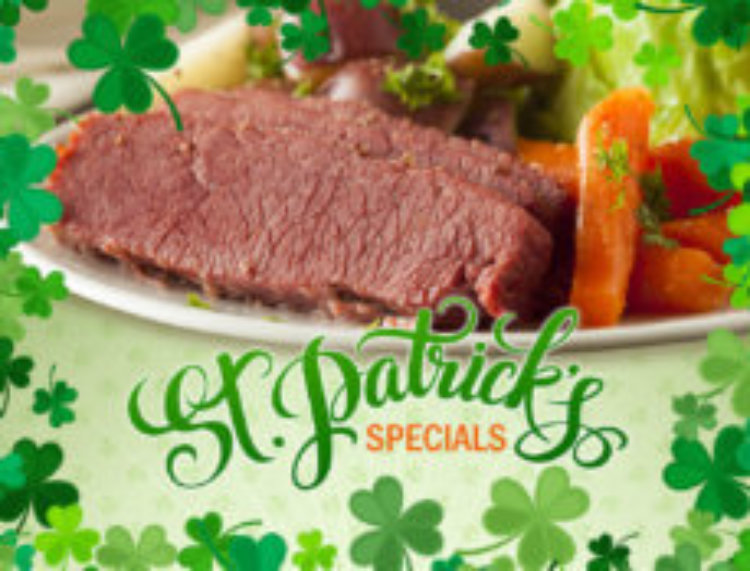 We can't wait to see you this weekend to help us celebrate St. Patrick's Day. One reason you HAVE to come is our chef's description of how he prepares the corned beef IN-HOUSE! It really is something you need to try this year.
Fresh Angus Brisket house brined in Guinness Beer, Pickling spices, Salt, Molasses many other spices. Brines for 14 days. Then simmered in a Court Bouillon for 1 ½ hours and then roasted for another 4 hours.
Here are the Rest of the Event Details:
St. Patrick's Day Specials in Lookout
The Lookout Bar & Eatery is offering Irish favorites on the menu for lunch and dinner Saturday & Sunday. Come celebrate St Patrick's with some great food and drink offerings.
Saturday, March 14 and Sunday, March 15 food is served from 11:00am–10:00pm, and drinks are served 11:00am until bar close. The full menu will also be available!
LOOKOUT BAR & EATERY St. Patrick's Day Specials:
Chili Rueben Chimichanga served with Green Chili 1000 Island Dressing $13.00
Corned Beef & Cabbage served with Irish Steeped Red Potatoes & Soda Bread $15.00
Braised Irish Chuck Colcannon (Dry Irish Stew with Bacon Garlic Mash) served with Soda Bread $19
SPECIALTY DRINKS
Irish Mule – Jameson Irish whiskey Ginger Beer Fresh Squeezed Lime Juice Garnished with a lime wedge and a sprig of mint Served over ice $7
Bailey's Mint Martini – Bailey's, Vodka, Green Creme de Menthe, and half and half topped with fresh whipped cream and shaved chocolate $7
Guinness Pint $5
Green Miller Lite Draft $4