Dine Around the Lakes at Frontier Restaurant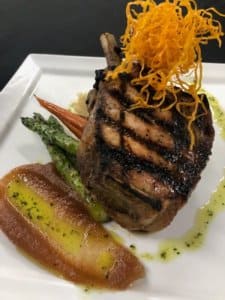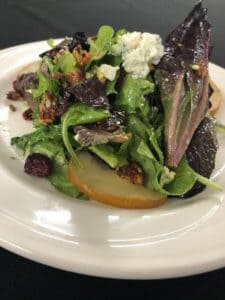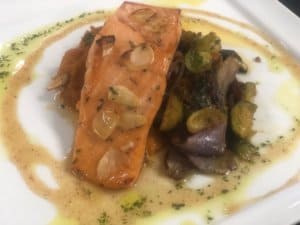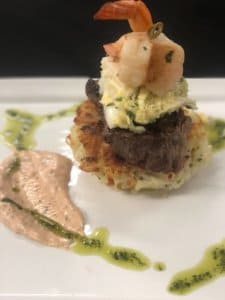 Walworth County's restaurant week is back for its 6th year! Our Frontier Restaurant is featured in this celebration of the local dining scene. Enjoy lunch or dinner daily from November 1 – 10.
Chef John Billings is taking this opportunity to show off some items from our new menu that is coming soon!
LUNCH $15
Starter
LAKE VIEW ESCAROLE SALAD
honey crisp apple, bermuda onion, caper horseradish vinaigrette

Entree
Select One
PETITE SIRLOIN & SHRIMP
napa cabbage slaw, garlic white cheddar hash brown, Texas toast crouton, choron aioli
OR
SOUTHERN YARD BIRD
buttermilk style pickle brine marinated breast of Bell & Evans chicken, cauliflower leek potato mash, grilled broccolini, smoked paprika chili paste

Dessert
RED VELVET CAKE MARTINI
rhubarb chutney, white chocolate mousse, berries, raspberry coulis
DINNER $30
Starter
LAKE LAWN GREENS
field greens, reyes blue cheese, candied pecans, cran-raisins, spiced poached korean pear, lemon grass vinaigrette

Entree
Select One
SEARED CHILI MAPLE SALMON
brussels sprout bacon salad, smoked paprika grits, chili lemon curd maple drizzle, herb infused evoo
OR
DUROC DOUBLE CUT PORK CHOP
sweet beer-braised baby carrots, grilled asparagus, cauliflower leek potato mash, honey crisp apple butter, sweet potato curls

Dessert
CHEF BILLINGS' NATIONAL DAIRY BOARD-WINNING MUD PIE
whipped vanilla Häagen-dazs ice cream, Baileys Irish Cream & Kahlua, Oreo cookie crust, chocolate ganache
Call 262.725.9155 or visit our website or Open Table to make reservations.
Reservations and more information on the Frontier Restaurant: https://www.lakelawnresort.com/dining/frontier-restaurant/