Wine Dinner Cruise:
von Stiehl Winery
Oct 5, 2022
|
6:00 pm
–
8:00 pm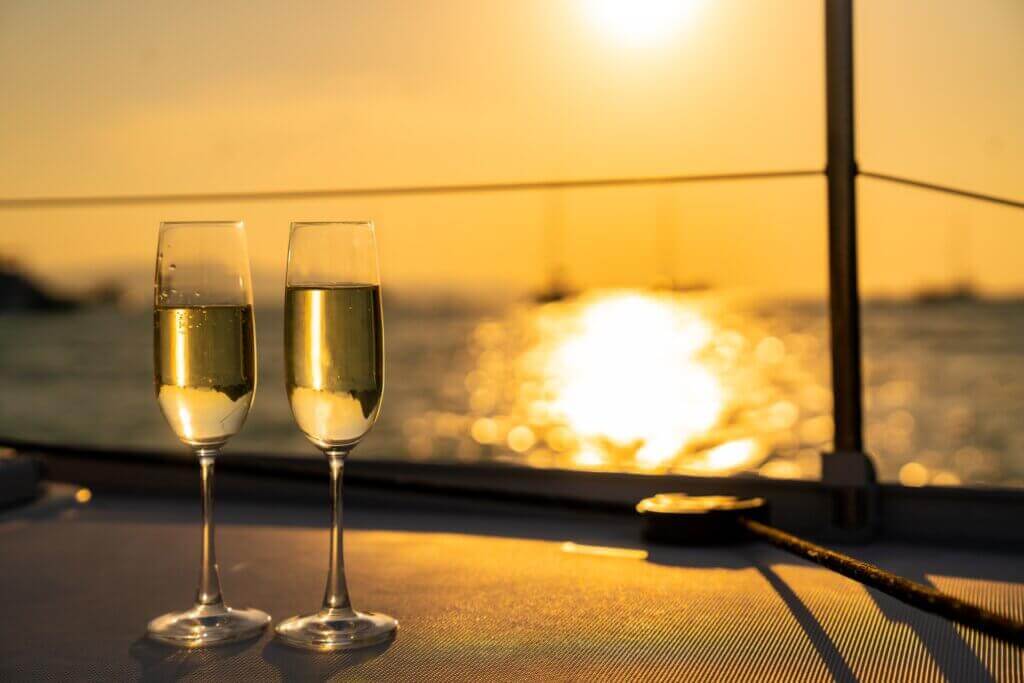 Cheers to great friends, beautiful sunsets, and divine wines! Join us for a Wine Dinner Cruise aboard the Lake Lawn Queen. Cruise the sparkling waters of Delavan Lake while enjoying a gourmet meal expertly paired with specialty wines from a featured winery. Seating is limited, and advance reservations are required.
von Stiehl Winery
Von Stiehl Winery, Wisconsin's oldest licensed winery, has been crafting wine from Door County, Kewaunee County orchards, and carefully selected vineyards from the West Coast since 1967. While many things have changed since founder Doc Stiehl opened von Stiehl in 1967, they still use his original recipes for the two wines that founded the winery, Sweet Cherry and Dry Cherry wines made with Door County Montmorency cherries. We hope you enjoy the history and legacy of Doc Stiehl with every sip you take from this selection of historic wines
Featured Wines and Menu
Reception – Butler Passed
Mini Mozzarella, Italian, Sausage, Scottish, Style, Basswood Honey, Crushed Red Pepper, Basil, Garlic, Port, Aioli
Gulf, Shrimp, Firecracker, Style, Sweet, Thai, Chili, Sauce
2021 Albarino
Acidic with tropical fruit – lime, lemon, and melon with hints of salinity. Light bodied and dry.
Dinner – Course 1
Black Tip Shark, Herbed EVOO, Lemon Faulk Salt, Pan Fried, Frisee, Filed Greens, Lemon Curd, Garlic, Shallots, Parsley, Black Pepper, Steal Cut, Vinaigrette
2021 Riesling
Most award-winning wine at von Stiehl
Semi-Dry and light+ body, floral notes (dogwood/white flowers) with acidic undertones of apple, pear, white peach, and soft melon.
Dinner – Course 2
Hanger Angus Steak, Smoked Salt, Seared, Russet, Hasselback, Herb EVOO, Baby Carrot, Asparagus, Leek, Bundle, Port, Reyes, Bleu Cheese, Demi
2019 Cabernet Sauvignon
Dry and medium-bodied, aromas of ripe strawberry, black cherry, and plum. Black currant and dried dark fruit on the palate.
Dessert
Carrot, Rum, Sheet Cake Martini Pumpkin, Spiced, White Chocolate Mousse, White chocolate, Cigarette Cookie, Crème Brulee Spoon
Solera Aged Cherry Bounce
Double Gold – Finger Lakes International Wine Competition – 2020 & 2021
20.5% alcohol, cherry wine fortified with cherry brandy made "Port" style and aged in Solera Cask. Intense cherry flavors with aromas of fresh cherry pie, undertones of raisin, plum, and dried apricot. Versatile – Old Fashioned drinks, cheesecakes, intense sorbets, chocolate cakes, crème Brulee.