Frontier Restaurant
Fine Dining Restaurant with water views in the Lake Geneva Area
The Frontier Restaurant is the premier dining room at Lake Lawn Resort in the Lake Geneva area. It is not only a place to enjoy Chef Ross' innovative American Heartland Cuisine but also a place to enjoy the company of others while marveling at unforgettable views of Delavan Lake. The Frontier boasts a specialized menu featuring familiar comfort foods with a sophisticated culinary twist. By working closely with local Wisconsin Farmers and artisans we are able to provide the freshest local ingredients as well as our homegrown herbs and fresh honey. The Frontier features a split level dining layout with expansive windows that showcase scenic Delavan Lake and the iconic lawns of Lake Lawn Resort.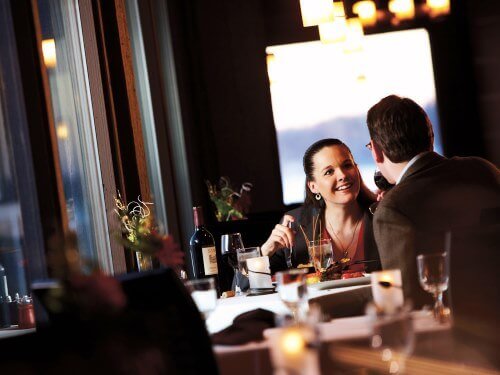 The delavan room
The Delavan Room is a private dining room which is situated off of The Frontier and provides an intimate setting for events with parties up to 40. You and your guests will experience the finest dining in this charming space complete with exceptional lake views.
Frontier Restaurant Buffets
Saturday Night Prime Rib Buffet – 5:30 PM until 10 PM
Sunday Champagne Brunch – 8:30 AM until 2 PM
Hours of Operation
Breakfast (Monday – Saturday) – 7 AM until 11 AM
Brunch (Sunday) – 8:30 AM until 2 PM
Lunch (Monday – Saturday) – 11 AM until 2 PM
Dinner (Daily) – 5 PM until 10 PM
A Deal So Hot…You Can Almost Taste It!
LAKE LAWN RESORT'S FRONTIER RESTAURANT INTRODUCES THE VIP FRONTIER DINING CARD.  WHEN YOU BUY A MEAL, SO DO WE.
Dine like a V.I.P. for only $84.95 plus tax per year and receive over $300 in savings!  VIP Dining Card entitles bearer to: Ten "2 for 1" menu entrees or buffets in the Frontier Restaurant as well as first choice invitations for select special events.  Reservations are strongly recommended by calling the Frontier Restaurant.
V.I.P. Membership cannot be used on holidays or special events.