Careers
Resort Job Opportunities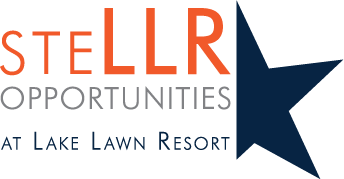 Lake Lawn Resort Mission Statement
Through a Shared Commitment, we are dedicated to maintaining a culture of integrity and excellence by providing the highest quality of lodging, food, and services.
We strive to enhance our guest experience through innovation and creativity.
Lake Lawn promises to foster a collaborative environment through continuing education, community stewardship, loyalty, and accountability.
We are passionate about delivering genuine Wisconsin hospitality where memories are made and stories are relived.
Core Values
Dedication | Integrity | Teamwork | Consistency | Attitude
Available positions
Full time
Banquets
CONFERENCE SERVICES
Conference Services Manager
FRONT OFFICE
Bell Staff
Rooms Manager
Assistant Front Office Manager
Executive Office
Assistant General Manager
Director of Resort Operations
Resort Night Manager
CULINARY
Line & Banquet Cooks
Garde Manger Supervisor
Garde Manger Cook
Dishwasher
Steward
FOOD & BEVERAGE
Housekeeping
Assistant Housekeeping Manager
Room Attendant
Part Time and Seasonal
Accounting
Banquets / Catering
Barback
Bartender
Waitstaff
Food & Beverage
Bartender
Café Attendant
Waitstaff
Engineering
Golf OPERATIONS
Counter Attendant
Golf Grille Cook
F&B Cart Attendant
Player Services
Housekeeping
Inspector
Public Areas Attendant
Recreation
Spa
Cosmetologist
Esthetician
Massage Therapist
Join our team
Our quick-apply online application takes 10 minutes and you have the option of including your resume.
If you are uncertain about where in the resort property is the best fit for your interests we can help! Our team is happy to guide you in learning more about opportunities and specific job-tasks in each of our Departments including restaurants, golf course, spa, culinary department, banquets, recreation, boat rentals, marina, and much more.
GREAT BENEFITS TO WORKING HERe including:
Generous PTO (paid-time-off) Program – start using your earned time off after the first 90 days of employment!
Discounts on resort amenities such as our General Store Gift Shop, Majestic Oaks Golf Course, Calladora Spa, Watersports Rentals and Boat Tours, Frontier Restaurant, Lookout Bar & Eatery, and more.
Hire-a-Friend employee referral program. Refer a friend or family member and earn a reward when they join the Resort as an employee.
Benefits including insurance and a 401K plan.
Human Resources
Office
Telephone: 262-725-9170
Email: [email protected]