Murder Mystery Dinner – Who Killed Baby Jane?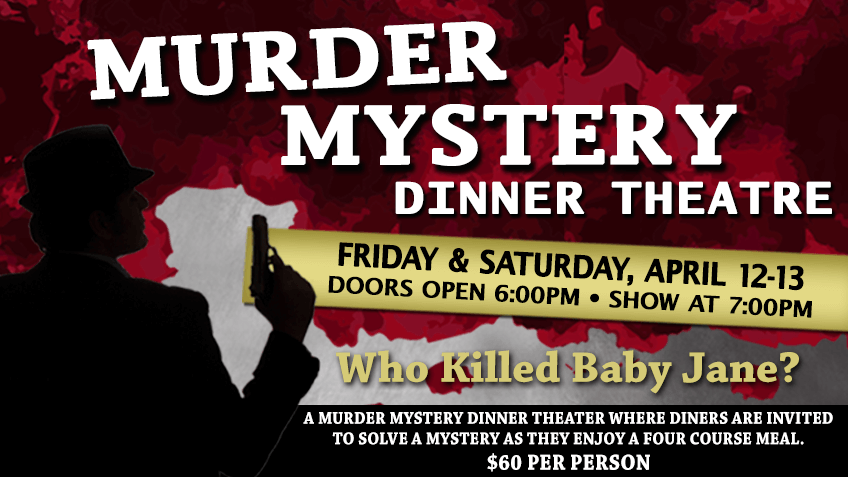 The Brown-Ullstrup Players present their dinner theater performance here at beautiful Lake Lawn Resort. Interact alongside the cast of characters to figure out who committed the crime. This exciting show is paired along with a delicious meal, making it a great night out!
Remember the movie "Whatever Happened to Baby Jane?" Yes, yes… the one with Bette Davis and Joan Crawford. Didn't you just want to kill Baby Jane? Well, someone finally did. But who wouldn't want her dead? Her sister to whom Jane served the rat? The bank teller who knew Jane was stealing Blanche's money? The piano teacher whom Jane was stringing along? The doctor who knew Jane was messing around with Blanche's prescription? The maid who Jane bludgeoned with a hammer? The neighbor? The neighbor's daughter? The bank manager? The cop? Or the other cop? The list goes on and on!
Join the other mourners here at Lawn Lawn Resort for an evening of cocktails, dinner, and fun! You never know WHO will solve the murder!
Seats are limited so reservations are required, entrée choices must be designated at time of reservation.
Timeline of Events:
Doors open at 6:00pm
Show begins at 7:00pm
Dinner to follow
Location:
Lake Lawn Room at Lake Lawn Resort
MENU:
Salad-
Lake Lawn garden salad with choice of Italian or ranch dressing
Entrée (Select One)-
Beef & chicken duet
Citrus marinated grilled tri-tip sirloin with a dijon-mushroom beef glace paired with sautéed breast of chicken with roasted red pepper cream sauce, seasonal fresh vegetable, herbed duchess potato
Or
Vegetable lasagna
Served with a grilled portabella mushroom steak & thick cut fried onion ring over sweet basil marinara
Dessert-
Flourless chocolate cake
Cost:
$60 per person includes dinner, show, non alcoholic beverage, tax & service fees
Select your Entree in the Ticket Section
Adult Beverages will be available for purchase at the event
Purchase your tickets HERE
Seating:
You will be seated with the group of tickets that you have purchased. Your group may be placed at a table with other guests. If you have additional seating requests please let us know by using the contact link on the confirmation page.
Dietary Restrictions:
Please let us know any specific dietary restrictions by using the contact link on the confirmation page.
To learn more about this event, and about Lake Lawn Resort, visit www.lakelawnresort.com/events
Free parking is available in the Conference Center Lot.