Resort Activities
Family Friendly Recreation Activities in the Lake Geneva Area
lakefront landing & bucky's playhouse Recreation activities
Located lakeside, to the east of our guest rooms and conference center, Lakefront Landing is your destination for fun. Lawn and recreational games are available for adults and children of all ages. A variety of games and activities await your competitive side including shuffleboard, horseshoes, and of course miniature golf.
Tennis and basketball courts are centrally located near the Lodges Guest Rooms to the west of the Resort Lobby. Equipment rentals are available by contacting the Bucky's Playhouse. Bike rentals are a popular source of exercise and a great way to see Lake Lawn Resort from a perspective only this mode of transportation can offer.
Looking for a more relaxing activity? Lakefront Landing is also the home of our on-site Watersports Rentals.
Year-round Lake Lawn Resort offers daily recreational activities every day for child and adult participation.  Create a Bucky's Build a Buddy stuffed animal to take home with you! Guests can relax and enjoy a guided walk along our beautiful lakefront, or try their luck at Bingo. Participate in a home run derby, play sand volleyball, or compete in a Tic Tac Toe Relay. Our Bucky's Playhouse is stocked with movies, crafts, and games galore. In order to keep your luggage light, we have a variety of sporting equipment to check out. From basketballs to tennis racquets and everything in between. With such a large property to explore, we offer bicycle rentals for children and adults. Come join the fun!
Through the winter months, equipment rental is available at the Activity Center for guests who want to participate in the season's customary winter recreation including snowshoeing, ice skating, and cross country skiing. Don't let the cold and snow slow you down, our Lakefront Landing is warm and inviting!
Arcade
Located in the Conference Center, between the Isle of Capri Café and the Frontier Restaurant, the arcade is a popular destination of our younger guests. You will find plenty of fun in the arcade with games like Dance Dance Revolution Super Nova, H2O Overdrive, Batman Pinball, Road Trip, Big Buck World, and of course a Candy Crane. These games and more will have you focused on winning that great prize and of course keeping you entertained.
Bonfires
Throughout our grounds, you will come across multiple bonfire pits. These bonfire pits provide the perfect setting to gather around and tell stories of past memories or just enjoy the sounds of nature. Enjoy the lakes breeze under the stars while staying warm by the fire. Available at dusk.
Laser Tag
Laser Tag is offered indoors as well as outdoors depending on the weather and the time of year. We offer a fun-filled hour of excitement at various times. Be sure to check the Activity Schedule for the days you are visiting. Private sessions can be arranged for a birthday party, team building event or perhaps a family reunion? Compete against your friends, family, or other guests in a friendly game of laser tag.  $10 per person.
Miniature Golf
Lakefront Landing's 18-hole outdoor miniature golf course is located lakeside and challenges guests of all ages. Miniature golf is a perfect sidetrack from the daily grind or a chance for the avid golfer to test their skills, and is fun for the whole family!  Only $5 per person.
Swimming Pools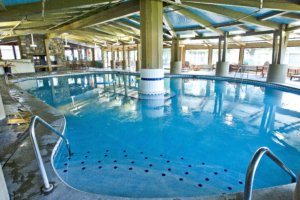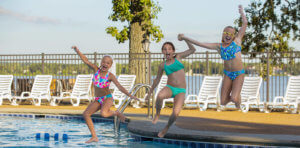 Come make a splash! Lake Lawn Resort has an indoor pool and hot tub situated in a large atrium-style glass building. Plenty of lounge and tabletop seating is available. We also offer two outdoor seasonal pools; both located on our scenic lakeside with plenty of lounge chairs for sunbathing. For more information about our pools click here.