Swimming Pools
Lake Geneva Area Resort Swimming Pools
SWIMMING POOLS
Enjoy a refreshing dip in the pool and plenty of lounge chairs no matter the time of year! Lake Lawn Resort offers a spacious and airy indoor pool and two refreshing outdoor pools for your enjoyment year round.
Pool Hours are:
9am-8pm Daily
Pool is closed daily from 2pm-3pm for enhanced cleaning.
Timber Indoor Pool & Hot Tub
Lake Lawn Resort's indoor pool and hot tub are situated in a large atrium-style glass building so you can go for a swim and get some sunlight any time of year. Located adjacent to Calladora Spa and near the Lookout Bar & Eatery, the Timber Indoor Pool features private showers and a lobby area with a fireplace.
Lookout Outdoor Pool & Kiddie Pool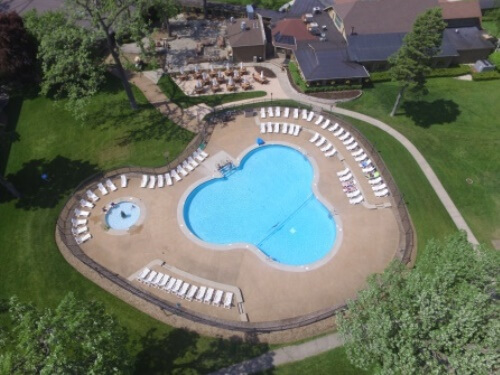 Just outside of the Timber indoor Pool and Lookout Bar & Eatery is the Lookout Outdoor Pool. Chill out and enjoy poolside service from the Lookout Bar & Eatery. The Lookout Outdoor Pool features a Kiddie Pool and daily poolside games hosted by our Recreation Team.
The pool is open daily from mid-May through October, 9am-7pm
Lakewood Outdoor Pool & Hot Tub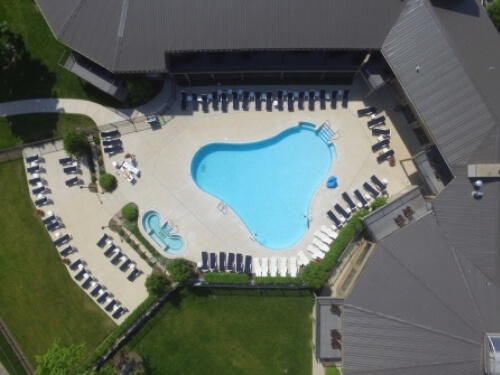 The Lakewood Outdoor Pool is located just outside of the Lakewood Lodge and a short walk from the Lakefront Landing activity center. The pool area has gorgeous views of Delavan Lake, an outdoor hot tub, and a large sundeck.
The Lakewood Outdoor Pool is open daily from mid-May through October, 9am-7pm