Calladora Spa Specials
Lake Geneva, Wisconsin Area's Beautiful Full Service Salon and Spa
OCTOber specials: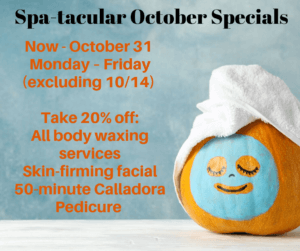 Calladora Spa is taking Halloween to the Spa-tacular Level by offering spooky spa specials now through October 31st. Monday – Friday 
Take 20% off the following:
Wax off Your Werewolf – all body waxing services
Jack-O-Lantern Facial to rid you of lines and wrinkles – Skin Firming Facial
Trick or Treat – Fix my Feet! – 50 min Calladora Pedicure – add $10 to upgrade to no chip
Breast Cancer Awareness:
Pink Highlights for you, for survivors, for fighters, for strength $5 per foil
Cannot be combined with other offers. Based on availability.
Call 262.728.7950 for details, and to book your service.
—Come early to use the pools and relax in the spa lounge. We will provide you a robe and spa sandals for your day & complimentary coffee or tea.
Spa hours:
Monday – Thursday: 9:30am-5:00pm
Friday & Saturday: 9:30am-7:00pm
Sunday: 9:30-4:00pm