Fitness
Fitness Room with Picturesque Views of Delavan Lake
Fitness Memberships at Lake Lawn Resort
Lake Lawn Resort offers pool and fitness memberships for those who want to stay in shape year-round. Take advantage of our beautiful indoor pool and whirlpool during the winter, and our two outdoor pools during the summer.
With an incredible view of Delavan Lake, our fitness center provides members with the use of cardio equipment, freestanding bench, dumbbells, and medicine balls.
2020 Pool & Fitness Membership Form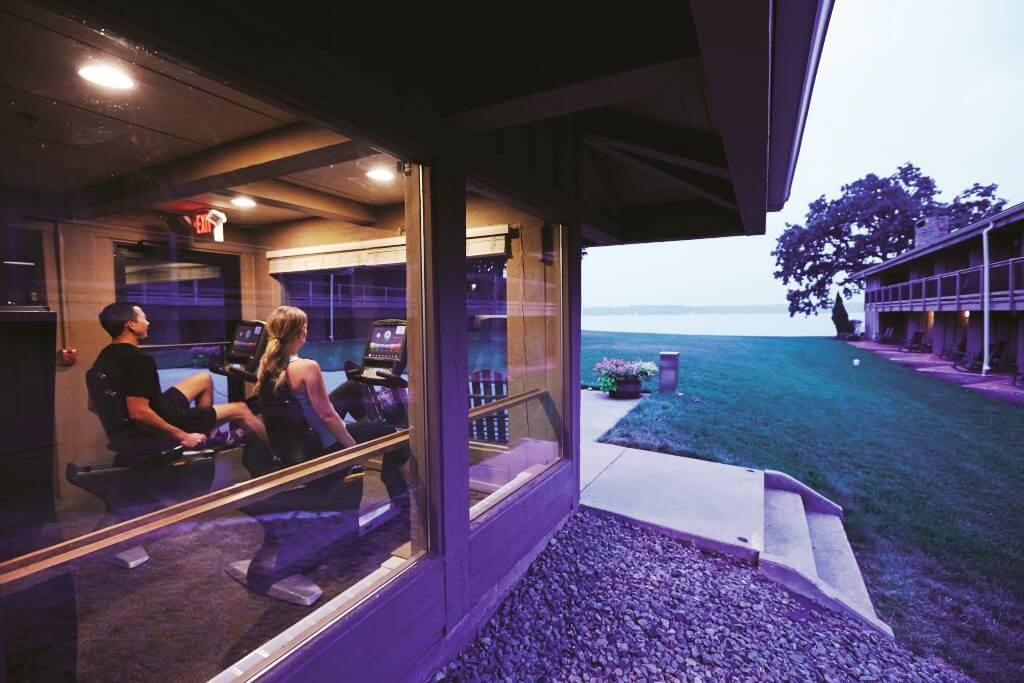 Fitness Equipment
With a unique view of Delavan Lake, the fitness center at Lake Lawn Resort will provide a calming atmosphere while providing all the luxury of state of the art fitness equipment. The possibilities are endless as you venture into the world of dedicated physical training or simply looking to stay active while you visit the resort.
A free-standing bench, dumbbells from 2 to 50 lbs, fitness balls, and medicine balls are just the start of what this unique lakeside fitness center provides. Our newly updated fitness room provides matted floors, fresh towels, and a 32" television to get the experience started right. Our MATRIX model equipment will continue to impress you as you move through to the completion of your fitness experience here.
Matrix T7xe Ultimate Deck Treadmill
Recreation Manager's Tip – "Start Slow and increase your pace from there."
Not your average treadmill. The integrated 15" touch screen display with FitTouch Technology allows for the most vibrant picture quality in the industry. This system is compatible with iPod for video and audio, charging and on-screen playlist selection. Continue your current training program with Nike and iPod for the Gym or with your Asset Management System through the integrated wireless data transmitter.
Matrix A7xe Ascent Trainer
Recreation Manager's Tip – "Feel free to pick your favorite scenic video and enjoy your favorite hike."
Contralateral action mimics the body's true movement while providing adjustable incline and resistance for greater workout variety. Enjoy a 7" to 12" variable step-over height and a 21" to 24" adjustable stride length to guarantee a natural feel to your Ascent Trainer experience.
Matrix R7xe Recumbent Cycle
Recreation Manager's Tip – "Don't forget your headphones and iPod so you can work to your favorite music."
We don't think any exercise equipment can be more welcoming than this recumbent cycle. Step-thru entry for easy access. Ergo Form seat and back pad to enhance comfort and support. This cycle has the common theme in our fitness center with the 15" touch screen display with FitTouch Technology to enhance performance. Easy to use with proven fitness rewards, it doesn't get any better than this.
Indoor Cycling Matrix S Series LS & Myride V3
Recreation Manager's Tip – "The choice is yours. Take a road ride, mountain bike ride, or a virtual spin session with a personal trainer."
The most powerful, personalized way to experience indoor cycling. Real-time workout tutorials are just one attribute these bikes can offer that your run of the mill bike won't touch. Studio and real footage rides have been programmed into these bikes to give you the experience of an outdoor ride by displaying quality video to take you visually through a ride that once could only be duplicated by physical engagement. Let your imagination wander as your body and mind absorb the benefit of this highly effective fitness tool.
Matrix Personal Trainer System
Recreation Manager's Tip – "There are more options on this machine than you will have the energy to complete. Pick your favorite body part and let the machine give you the best workout you can get."
Endless options will be presented as you meet and greet this impressive training system. Upper body, lower body or full body focus can be easily identified. Clean, smooth operation with simple equipment accessory options will please the professional trainer as well as the average fitness friend of Lake Lawn Resort.
What else can Lake Lawn Resort offer the fitness enthusiast?
Biking, running, and walking the hotel grounds or taking a stroll on our lakefront can be a wonderfully memorable experience for anyone. Take your fitness efforts to the waves of Delavan Lake by renting a kayak or paddle board from Lake Lawn's onsite boat and water sport rentals.
With three pools to choose from, swimming may be something that fits your schedule. Between Memorial Day and Labor Day, Delavan Lake may be a natural possibility for swimming fans. If that brings you a little too close to nature the Lookout Pool or the Lakewood Pool may be a better option. Our indoor pool is open year-round and available for the lovers of the water to use for fun, fitness or both.
Wisconsin has a reputation for cold and snow. Don't let that stop you. Ice Skating, cross country skiing and snowshoeing can be another excellent source of exercise and is available through our Activity Center.